RIP Robert Cornthwaite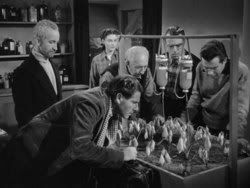 BOB CORNTHWAITE [FAR LEFT] IN
THE THING FROM ANOTHER WORLD.
Far too many veteran actors, including Jack Warden, Mako and Red Buttons have passed away recently. However, I hadn't even heard about the passing of Robert Cornthwaite, on July 20th at the age of 89.
Although Mr. Cornthwaite has well over a hundred film and television roles listed on the IMDB, he acheived immortality with his first credited part, as the seminal misguided scientist Dr. Carrington (the originator of the "they're techologically superior to us, so they must be morally superior to us, too" school of thinking) in Howard Hawks'
The Thing from Another World
. Frankly, if he had stopped there, he never would have been forgotten.
However, he was just starting, and as recently as 2005 worked in the sci-fi spoof
The Naked Monster
(as, fittingly, Dr. Carrington--thus the role that made him was his first [credited] role, and his last as well). In the meantime he appeared in several movies and dozens and dozens of TV shows.
Genre fans should keep an eye out for him in the films
War of the Worlds
(1953),
The Ghost and Mr. Chicken
and
Colossus: The Forbin Project
. (Cornthwaite also helped dub the American cut of
Reptilicus
!). As well, eagle eyes viewers might spot him appearing in such TV shows as
Maverick, The Rifleman, The Untouchables, Thriller, The Twilight Zone, The Andy Griffith Show, Perry Mason, The Fugitive, The Munsters, Voyage to the Bottom of the Sea, Get Smart, Batman, The Monkees, Bonanza, Gunsmoke, The FBI, the pilot movie for The Six Million Dollar Man, Kolchak: The Night Stalker, Laverne & Shirley, Murder She Wrote
and several billions others.
RIP.